Water Gardens, Water Features & Small Ponds
Water features add sound, texture, and movement and make the entire landscape feel more natural and serene. Water attracts birds, hummingbirds, dragonflies, and other wildlife that are fun to watch, creating a natural haven, bringing harmony to your backyard space.
Creating a simple water garden is fun and easy. Your mini water feature can be as simple as a hollowed-out stone that catches rainwater or a shallow bowl with floating plants like azolla. How about a galvanized water trough or a ceramic glazed water pot filled with a combination of a few plants, rocks and even a small pump for the soothing sounds of rippling water. Or perhaps you want an in-ground Water Garden or Pond; the possibilities are endless.
Water Gardening opens up a whole new world of water-loving plants, planting containers, water feature decor and one-of-a-kind landscaping elements to make your landscape uniquely your own.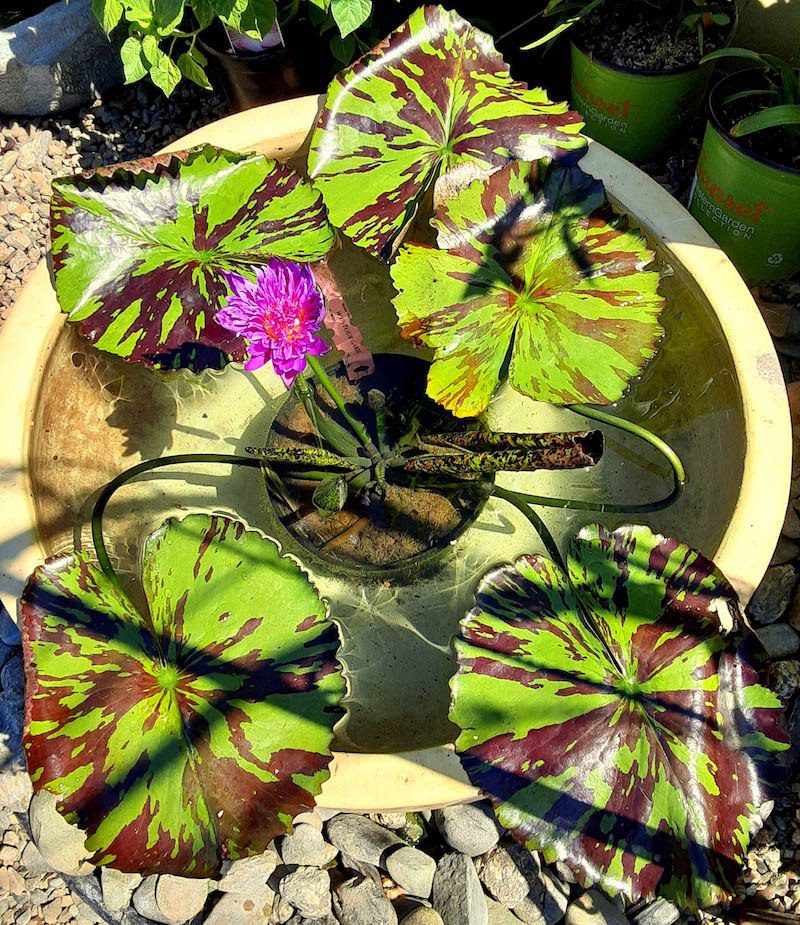 Beautiful, Serene, Captivating Water Gardens
Wyntour Gardens has a love of Water Gardens and water plants and would be happy to help you either choose or create the perfect water feature for your yard.
We grow most of our water plants and propagate beautiful Cannas, Lotus, Lilies, bog plants, marginals and floating plants such as Azolla, Duckweed, Water Lettuce and Water Hyacinth.
We carry a large selection of Water Garden containers, pond supplies, pumps, filters, water conditioner, planting medium, fish food & fish medications. Make a stop at Wyntour Gardens today, we would love to show you some ideas for creating your own relaxing and beautiful water feature.
A Delightful Experience For You
Wyntour Gardens carries a great selection of plants for your water garden and the products you need to keep everything looking fabulous and in optimum health. We are also pleased to have water garden, fish & pond experts on staff as well as other employees who are very familiar with the needs of maintaining a water garden.
Sherrie, former owner of Sherries Water Gardens had decided to retire and close up her business, but luckily for us, she just couldn't stay away from her love of water gardening and came on board to run our Pond and Water Garden department. She is always happy to answer any questions you may have on anything pertaining to ponds, water gardens and even goldfish & Koi.
We would love to be a part in helping to make your water garden a delightful experience for you.
Pond Plants
Wyntour Gardens carries pond plants that prevent algae build-up, add oxygen and will keep your pond looking fabulous!
Wyntour Gardens is happy to have a staff of friendly, plant-loving, garden-caring people who are eager to share their knowledge and experience with you. Whatever pond, water plants and water garden questions you have, please stop by Wyntour Gardens so we can help in answering all your questions.